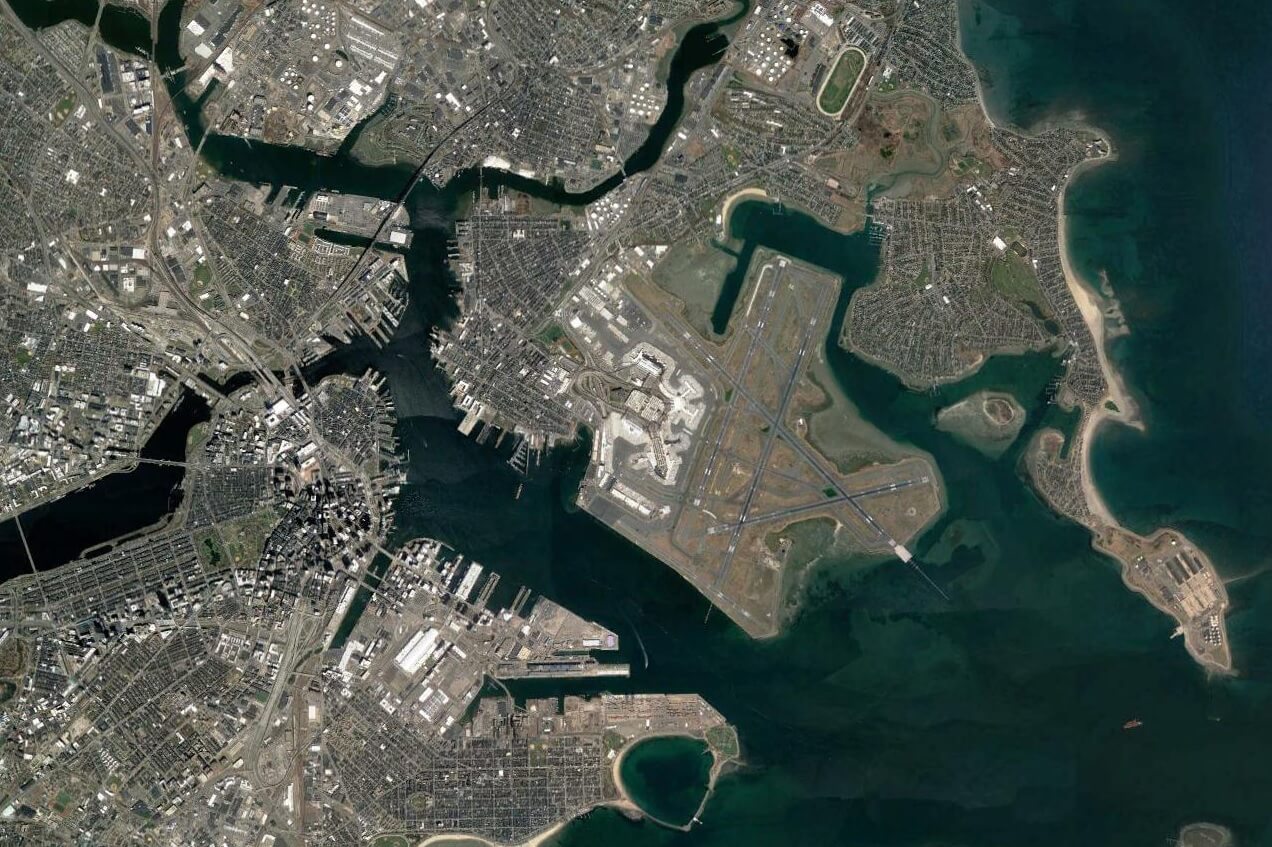 Massport Conley Terminal Expansion, Maintenance, and Improvement Dredging Bathymetric and Lidar Surveys, Water Quality Monitoring

DCR Winthrop Beach Nourishment Post-Construction Bi-Annual Single Beam Bathymetric Surveys

Cottage Park Yacht Club Maintenance Dredging Bathymetric Surveys

Jeffries Cove Existing Conditions Multibeam Bathymetric Survey

Black Falcon Cruise Terminal Design and Maintenance Multibeam Bathymetric Dredging Surveys, Water Quality, DQM

USACE Rock Removal Multibeam Bathymetric Dredging Surveys, Side-Scan Sonar Surveys, Drill and Dredge Positioning, and DQM Compliance

Piers Park III Existing Conditions Multibeam Bathymetric Survey

Fan Pier Marina Dredging Bathymetric Surveys

Boston Fish Pier Existing Conditions Multibeam Bathymetric Survey

Main Ship Channel Confined Aquatic Disposal (CAD) Cell Multibeam Bathymetric Surveys

Eversource Transmission Cable Inspection High-Resolution Multibeam Bathymetric Surveys

Encore Boston Harbor Multibeam Bathymetric Dredging Surveys, Lidar Topography, Side-Scan and Magnetics Surveys, and Sediment Sampling

Boston Autoport's Mystic Pier One Surveys

Charlestown Marina Existing Conditions Bathymetric Survey

Boston Autoport's Medford St. Berth Surveys

Eastern Minerals Terminal Existing Conditions Multibeam Bathymetric Survey

Chelsea St. Bridge Construction Multibeam Bathymetric Surveys and Side-Scan Sonar Debris Surveys

Irving Oil Terminal Multibeam Bathymetric Dredging Surveys and Water Quality Monitoring

Gulf Oil Terminal Multibeam Bathymetric Dredging Surveys

Chelsea River CAD Cell Multibeam Bathymetric Surveys and Water Quality Monitoring

Boston Harbor Deepening Multibeam Bathymetric Before Dredge Verification Surveys

East Boston Pier 1 Existing Conditions Multibeam Bathymetric Survey

62 Nay St. East Boston Existing Conditions Multibeam Bathymetric Survey

170 Border St. East Boston Existing Conditions Multibeam Bathymetric Survey

333 Terminal St. Charlestown Existing Conditions Multibeam Bathymetric Survey

Massport's North Jetty Existing Conditions Multibeam Bathymetric Survey

370 McClellan Hyw East Boston Existing Conditions Bathymetric Survey

MBTA North Station Draw and Zakim Bridge Multibeam Bathymetric Survey
Charles River Multibeam Bathymetric Survey of MBTA North Station Draw and Zakim Bridges

Eversource HEEC Cable Removal Multibeam Bathymetric Surveys
Eversource HEEC Cable Removal Multibeam Bathymetric Surveys for Caldwell Marine International

Boston Autoport's Moran Terminal Berth Surveys
Representative Clients
Dredging
AGM Marine Contractors
Albert Marine Construction
Atlantic Mechanical
Breakwater Marine
Burnham Associates, Inc.
California Dredging Company
Cashman Dredging and Marine Contracting
Cedar Marina Dredging
Charter Contracting
Conway Marine Construction
Fore River Dock and Dredge
Great Lakes Dredge & Dock
H&L Contracting
Hansen Marine Construction
J-Way Southern
Land Remediation
LKE Environmental
Lucas Marine
Moores Marine
Newborn Construction
OSM Marine
Palmer Federal Constructors
Patriot Marine
Paul Howard Construction
Prock Marine Company
R.B. Conway and Sons
Reagan Construction
RDA Construction
Riverside & Pickering
Robert B. Our Company
Sevenson Environmental
Southwind Construction Corp.
SPS New England
Sterling Equipment
Tioga Construction
Tripp Marine Construction
Village Dock
Wickberg Marine Contracting

Engineering and Environmental
A-Plus Construction Services
AECOM
Anchor QEA
AMEC / Foster Wheeler
Appledore Marine Engineering
Applied Coastal
Applied Marine Ecology Lab
ARCADIS
ASEC Corporation
Barletta Engineering
Bryant Associates
Bourne Consulting Engineering
Cape & Islands Engineering
CH2M
Childs Engineering
Coastline Consulting
EEA, Inc.
Feldman Surveyors
Fuss & O'Neill
GEI Consultants
Geological Field Services
Harbor Engineering
Jacobs
Matrix Design Group
Michael Baker International
Moffatt & Nichol
Roux Associates
St. Jean Engineering
Teledyne Benthos
TetraTech
The Nature Conservancy
Waterfront Structural Consulting
Welch Associates
Woodard & Curran

Marinas and Yacht Clubs
Apponoag Harbor Marina
Brewer Yacht Yards
Brown & Howard Wharf
Bristol Marine
Castaways Yacht Club
Green Harbor Marina
Green Harbor Yacht Club
Harborlights Marina
MarineMax
Marshfield Yacht Club
Mill Wharf Marina
North River Marine
Norton's Shipyard Marina
Pawtuxet Cove Marina
Ponoag Marina
Port Norfolk Yacht Club
Port Sonoma Marina
Rhode Island Yacht Club
Riverscape Marina
Royal River Boatyard
Safe Harbor
Seawanhaka Corinthian Yacht Club
South River Marina
St. George's Boatyard
Taylor Marine Corp.
Wickford Yacht Club
Wright Island Marina

Marine Construction and Diving
Alteris Renewables
Blakeslee Arpaia Chapman
Caldwell Marine International
Cianbro
CPM Constructors
J.F. White Contracting Company
Kiewit Construction Corporation
Posillico, Inc
Reed & Reed
Semper Diving & Marine
Skanska
Walsh Construction / PCL

Terminals and Transportation
41° North Offshore
Boston Autoport / Diversified Automotive
Bridgeport Port Jefferson Steamboat Terminal
British Virgin Islands Port Authority
Buckeye Terminal
Citgo Terminal
City of San Diego
Eastern Minerals
Flushing Asphalt
Fore River Shipyard
Granite State Minerals
General Dynamics' Facilities
Global Oil Companies Terminals
Gulf Oil Terminals
Irving Oil
Marine Safety Consultants
Massachusetts Port Authority Terminals
Moran Towing
NYS Marine Highway
Pacific Choice Seafoods
Quonset Port of Davisville
Sprague Energy Terminals
The Steamship Authority Terminals
Tilcon New York Terminals
United States Coast Guard
Vineyard Fast Ferry
Willet's Point Ashault Plant
Winslow Marine

Representative Projects Super Flood Project, Portsmouth Naval Shipyard, Kittery, ME
Client: Cianbro Corp.
Steele Associates performed multibeam bathymetric surveys and project engineering for Cianbro and Donjon Marine  for an extensive dredging and marine construction project for the U.S. Navy

Environmental and Maintenance Dredging, Naval Station Newport, RI
Clients: AGM Marine Contractors and Reagan Construction
Steele Associates provided single and multibeam bathymetric surveys as part of environmental and maintenance dredging. In addition, high resolution debris surveys were performed to facilitate debris removal.

Massport Design, Maintenance and Improvement Dredging, and Berth 10 Expansion Surveys, Boston Harbor, MA
Steele Associates performed multibeam bathymetric dredging surveys of Massport's Conley and Black Falcon Terminals. In addition, SA has performed hydrographic and geophysical surveys at other Massport facilities in and around Boston Harbor.

Brewer Yacht Yards Bathymetric Surveys, New England and New York
Client: Brewer Yacht Yards
Steele Associates has performed pre and post-dredge and existing conditions bathymetric surveys at Brewer Yacht Yards at facilities throughout New England and Long Island, NY.

Rock Removal Project, Boston Harbor, MA
Client: Burnham Associates, Inc.
Steele Associates performed pre-dredge, interim progress, and post-dredge multibeam bathymetric surveys of rock outcropping for removal. Steele Associates provided positioning support with Dredgepack positioning systems installed aboard the dredge Samson and drill barge Trinity. Side-scan sonar surveys and DQM reporting were also performed as required for USACE compliance.

Cruise Pier Expansion Project, Roadtown Harbor, Tortola, BVI
Client: British Virgin Islands Ports Authority
Multibeam bathymetric survey of Roadtown Harbor and proposed berths as part of a cruise terminal construction and dredging project.

Multibeam Bathymetry, Mystic River Dredging, Mystic, CT
Client: Cashman Dredging and Marine Contractors
Steele Associates performed multibeam bathymetric surveying of four miles of Federal Channel for a USACE maintenance dredging project. DQM data reporting compliance for the scow 250 was also provided.

Air Quality Monitoring Stations, River East Project, Queens, NY
Client: EEA, Inc
Steele Associates developed a real-time air quality monitoring system to ensure worker safety on this environmental remediation and construction project. Potentially hazardous or toxic air pollutants were monitored throughout the project site and an alarm sounded if levels exceeded NYDEC specifications.

Water Quality Monitoring Buoys, Nyack and Troy, NY
Client: GEI Consultants, Inc.
Steele Associates deployed water quality monitoring buoys at two environmental dredging project locations in the Hudson River. Data were available for download or viewing real-time from a website, and automated email notifications sent in the event of a threshold exceedance.


Marina Design Survey, St. George, Bermuda
Client: St. Georges Boatyard
Steele Associates performed a single beam bathymetric survey to aid in the design of a floating dock system for a marina construction project on St. George Island.

Terminal Berth Dredging, South Portland, ME
Client: Gulf Oil Corporation
Steele Associates provided single beam hydrographic surveys and field enginnering to support Gulf Oil and Cashman Dredging and Marine for the dredging of a terminal berth.

Graving Dock Construction, Electric Boat, Groton, CT
Client: Kiewit Construction
Steele Associates provided singlebeam bathymetric surveys in support of the construction and dredging of two submarine graving docks at the General Dynamics Facility.

Improvement Dredging at Bass Harbor, ME and Bucks Harbor, ME
Client: Prock Marine Company
Steele Associates performed multibeam bathymetric surveys for these two USACE New England District 2010-2011 improvement dredging projects.

Hydrographic Surveying, Factory Pond, Hanover, MA
Client: TetraTech EC
Steele Associates conducted a singlebeam bathymetric survey of this shallow water site. In addition, sediment cores were collected throughout the pond for analysis.

Maintenance Dredging, Point Judith, RI and Bullock's Cove, RI
Client: Village Dock, Inc
Steele Associates provided Silent Inspector compliance services for two scows for these 2009-2010 USACE New England District maintenance dredging projects. We also performed singlebeam bathymetric surveys and dredge positioning system installation, configuration, and field engineering support.

Sediment Sampling, Meadowlands, NJ
Client: EEA, Inc.
Steele Associates collected boxcore, grab, and vibrocore sediment samples throughout the Meadowlands over multi-year period. In addition, SA supported water quality monitoring, fisheries surveys, marsh topographic surveys.


Moses Wheeler Bridge in Stratford, CT
Client: Walsh Construction Company – PCL J.V.
Steele Associates performed a pre-construction multibeam bathymetric survey of the Housatonic River in the immediate vicinity of the Moses Wheeler Interstate 95 Bridge in accordance with USACE and USCG specifications.

Fore River Bridge Construction, Quincy and Weymouth, MA
Client: White – Skanska J.V.
Steele Associates is supporting this bridge replacement project with multibeam bathymetric surveys for navigational clearance. Side-scan sonar surveys were also performed for sub-sea cable location verification imagery in the Fore River. We continue to provide scour monitoring surveys on a quarterly basis.