Portsmouth Naval Shipyard, Kittery, ME
    Clients: Cianbro and 381 Constructors, Years: 2019-2022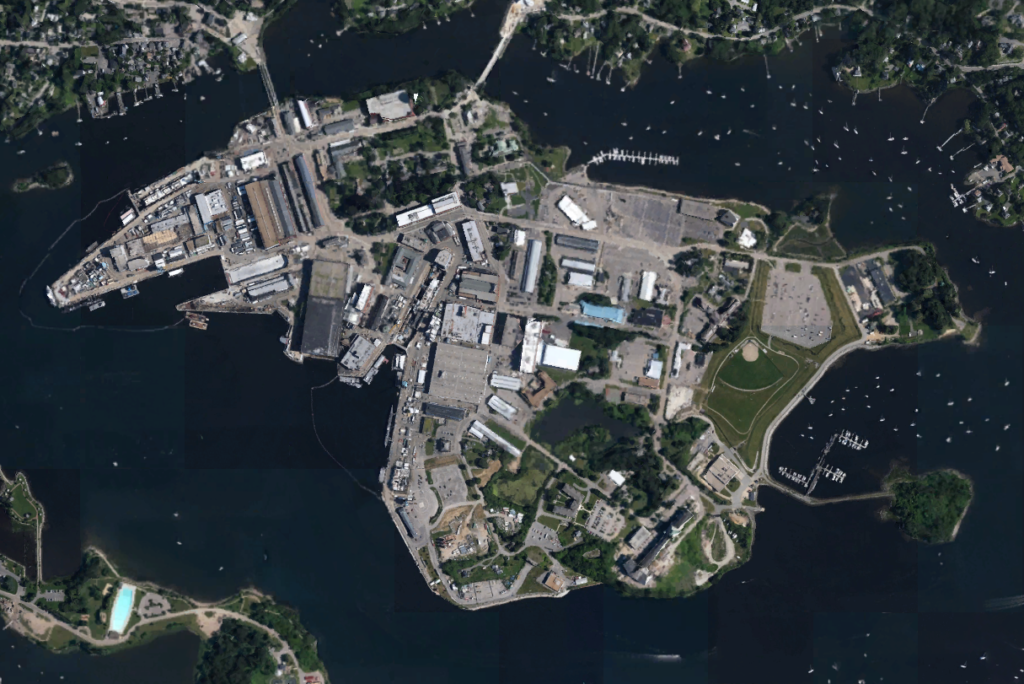 Steele Associates is actively performing high-resolution hydrographic surveys and engineering support to Cianbro and P381 Constructors on the Navy's Superflood and P381 Projects. Construction of this 3.5-acre flood basin includes improvement dredging, environmental dredging, drilling and blasting, and the construction of closure walls. 
---
Massport's Conley Terminal Expansion and Deepening, Boston, MA
Client: GEI Consultants, Years: 2019-2020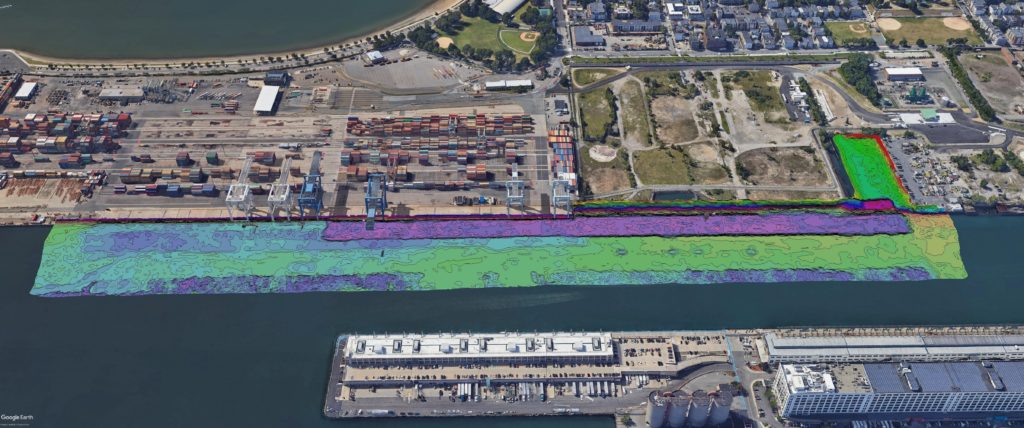 Steele Associates provided GEI Consultants with hydrographic surveying for the Massachusetts Port Authority's Conley Terminal New Berth 10 and Berth 11 Deepening at the as part of the USACE Boston Harbor Deep Draft Navigation Improvement Project. ROV underwater video, water quality monitoring, multibeam bathymetric and topographic lidar surveys were performed. In addition, Steele Associates performed bathymetric and side-scan sonar debris mapping surveys for the design phase.
---
HEEC Cable Surveys, Boston Harbor, MA
Client: Caldwell Marine International and others, Years: 2019-2020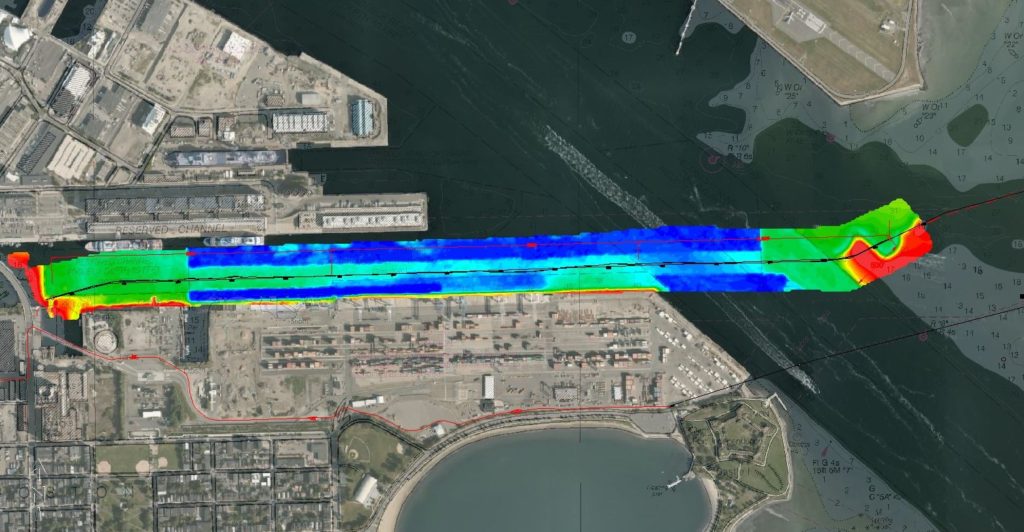 Steele Associates performed multibeam bathymetric surveying for Caldwell Marine and others on the Harbor Electric Energy Commission (HEEC) Cable Replacement and Removal Project in Boston, MA. The cable route ran from the western end of the Reserved Channel to Deer Island, approximately four miles. The intent of these surveys was to determine existing conditions,
highlight any hazards to cable removal, aid in locating the removal excavation site, provide survey data to Caldwell and dredging contractor while trenching for cable removal, and regularly confirm Boston Harbor safe navigational clearance following cable removal operations. In addition, surveys were performed of the Main Ship Channel Confined Aquatic Disposal (CAD) Cell to monitor disposal operations. SAMC provided hydrographic survey and engineering services ranging from initial survey planning, data collection and processing, project plotting with CAD, 3D models and point cloud visualizations.
---
Encore Boston Harbor, Boston and Everett, MA
Client: SPS New England, Charter, and Wood, Years: 2017 – Present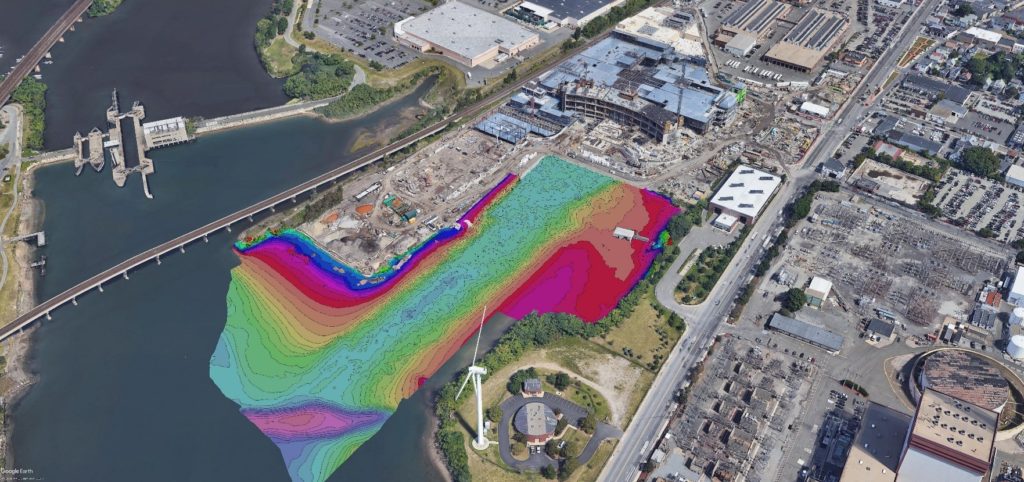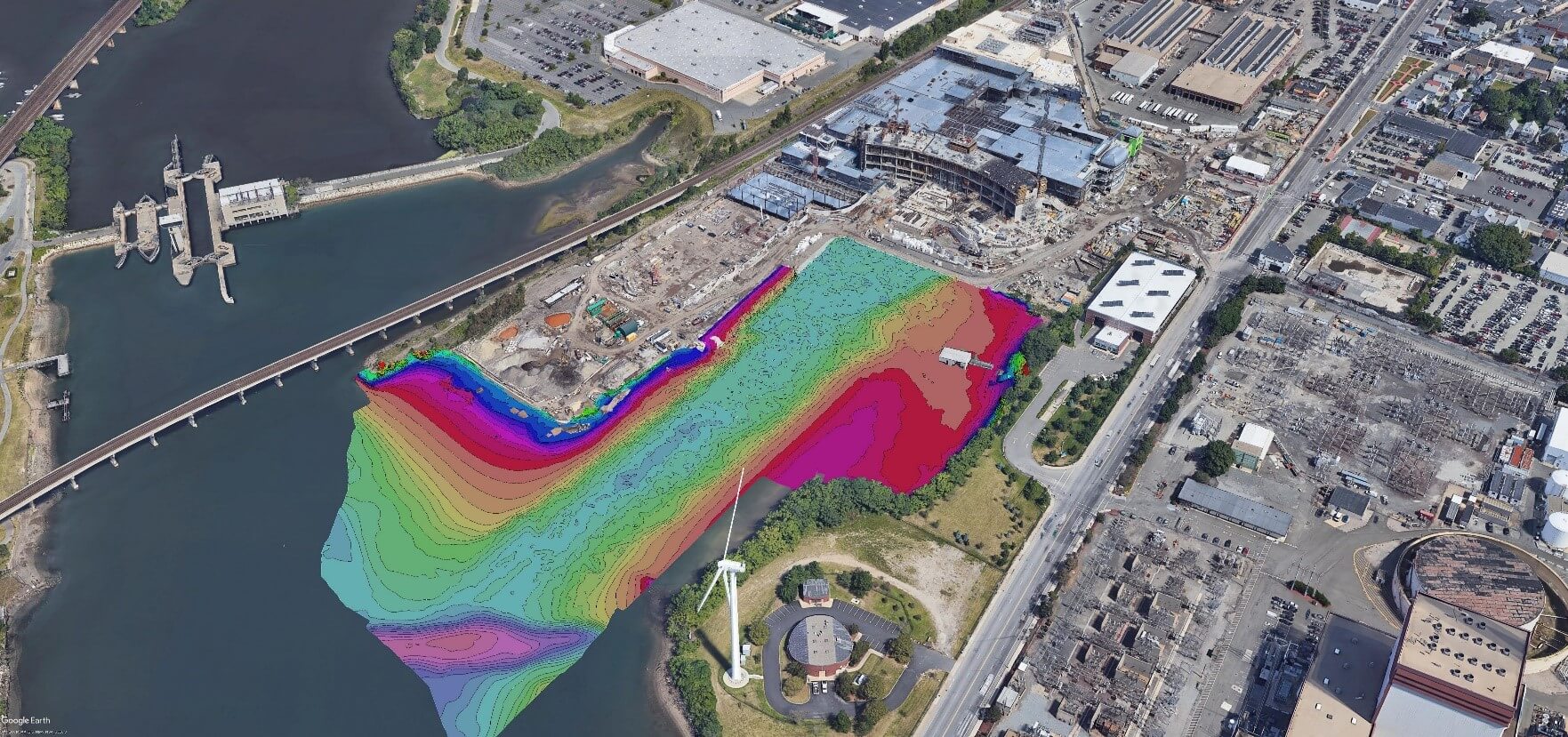 Steele Associates worked along with the SPS and Charter team to complete environmental dredging at Encore Boston Harbor Casino site. The project involved environmental cleanup and debris removal including dredging and capping along the Mystic River at a contaminated former industrial site to be developed as a luxury resort and Casino. Steele Associates provided sediment vibracore sampling, side-scan sonar, debris surveys, multibeam bathymetric and lidar topographic surveys, ROV underwater video, and engineering support. This project was part of the largest privately funded construction project in Massachusetts history. We continue to provide site monitoring surveys.
---
Fore River Bridge Replacement, Quincy and Weymouth, MA
Client: J.F. White / SKANSKA JV and others, Years: 2012-2020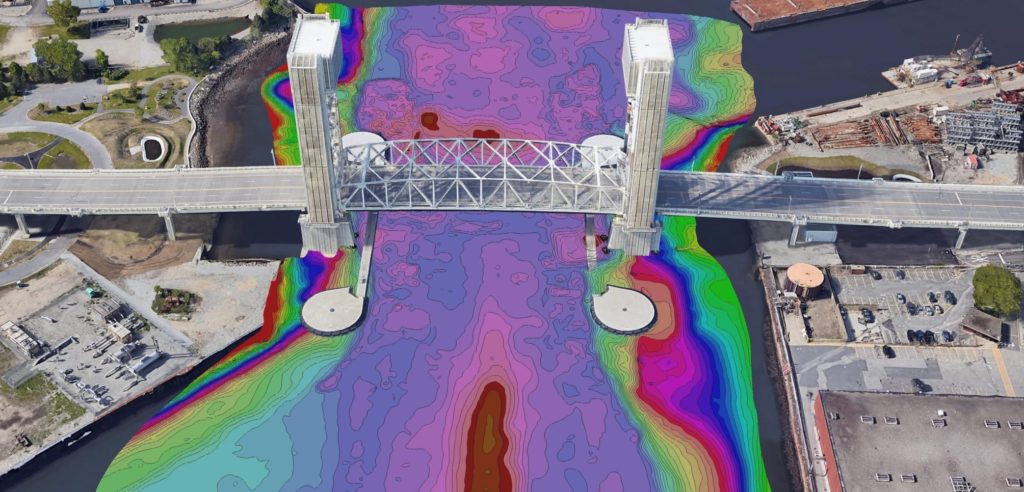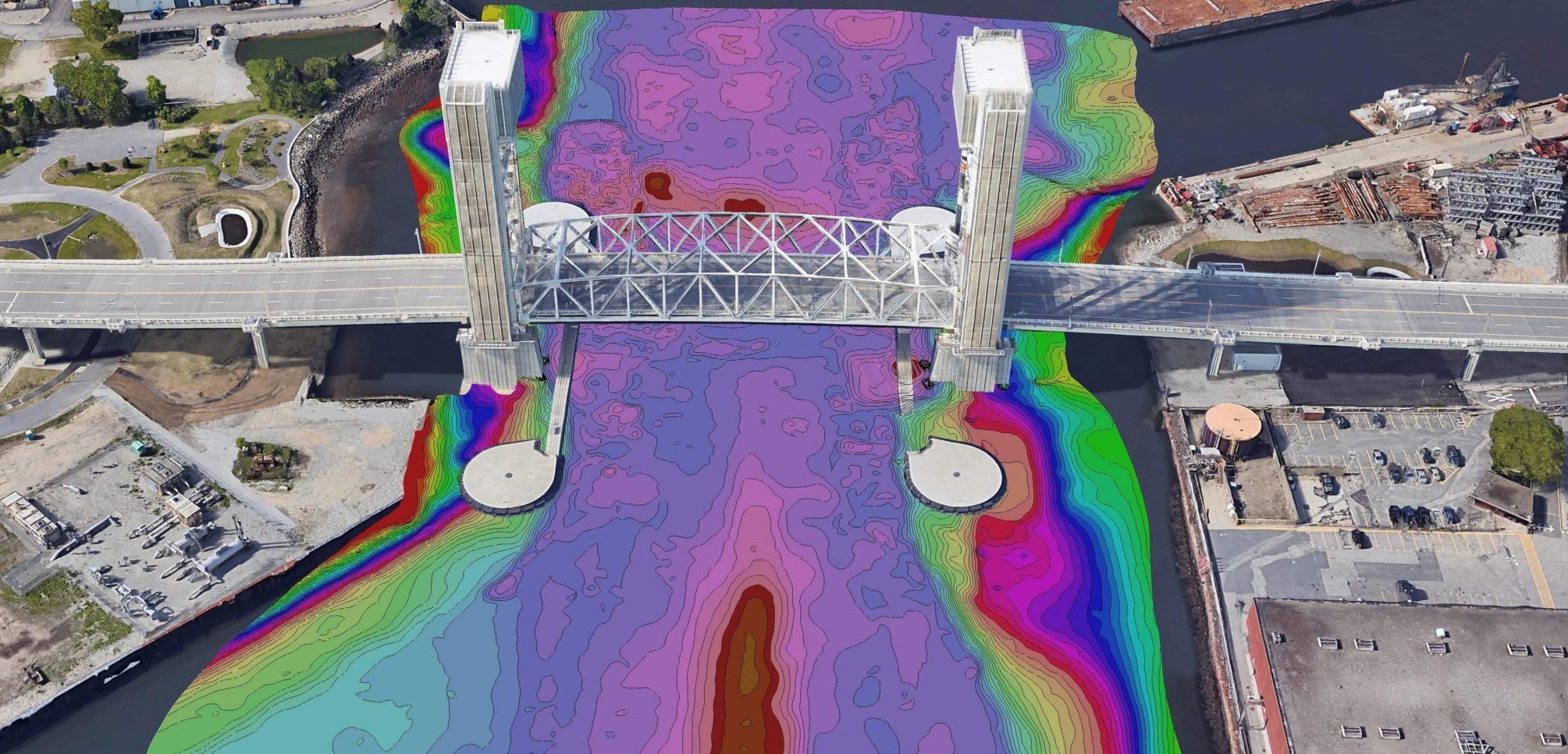 Steele Associates provided hydrographic surveying to White SKANSKA JV on the Fore River Bridge Replacement Project. The project spanned eight years and involved the construction of a replacement bridge alongside the former prior to its removal. Hydrographic surveys included pre and post-construction multibeam bathymetry, side-scan sonar cable location, debris removal, and dredging surveys. In addition, we supported AGM Marine Contractors with guidance for piling and debris removal. Construction was completed in 2019 and followed by multibeam bathymetric scour monitoring surveys.
---
New Bedford Harbor Superfund Dredging Surveys, New Bedford, MA
Clients: Bryant Associates, U.S. Army Corps of Engineers Years: 2017-2018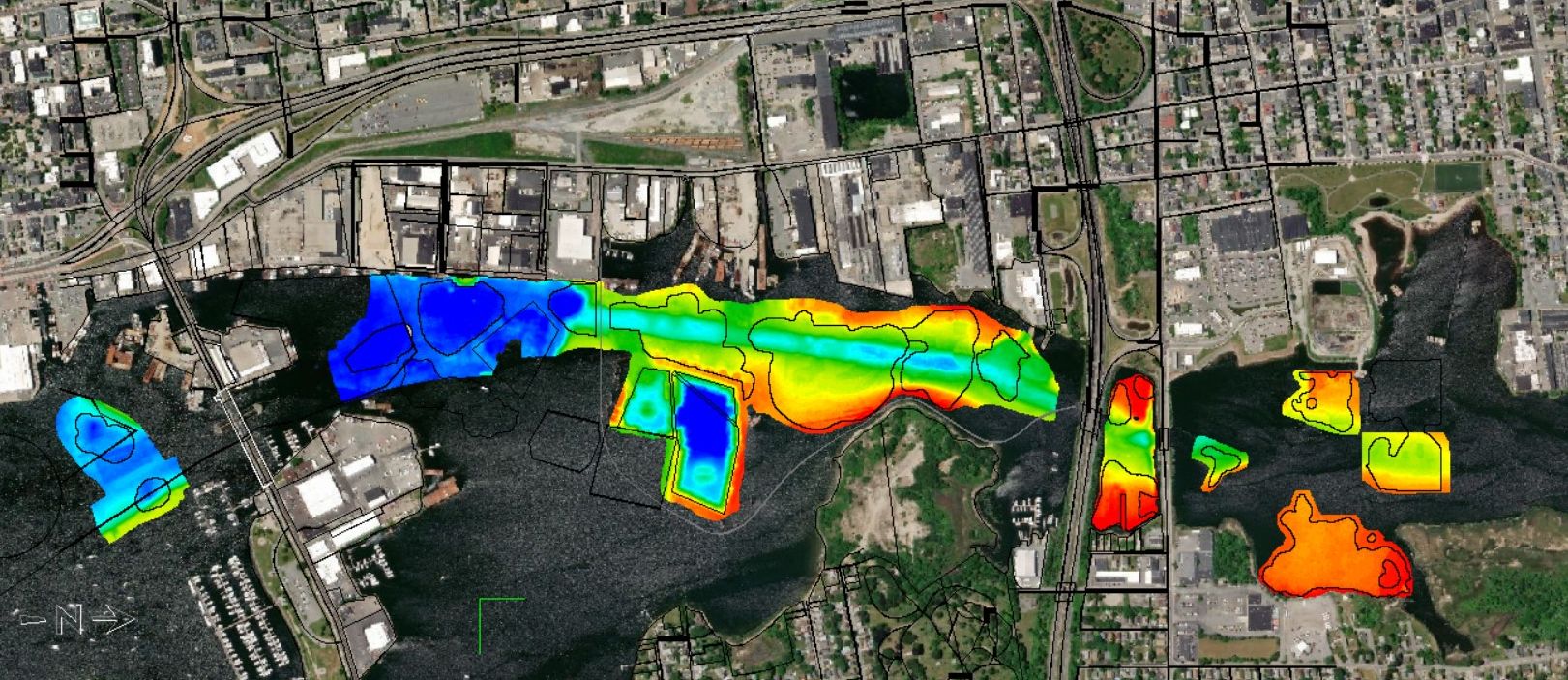 Steele Associates performed Class 1 acceptance and payment multibeam bathymetric surveys for Bryant Associates and the Army Corps of Engineers. The government's Superfund environmental dredging survey events required close coordination with the dredging contractor and commercial fishing fleet, along with expedited data deliverables to maximize productivity and efficiency.
---
U.S. Army Corps of Engineers Projects:
Little Narragansett Bay, Stonington, CT
Milford Pond, Milford, MA
Mystic River, Mystic, CT
Royal River, Yarmouth, ME
Scarborough River, Scarborough, ME
Boston Harbor Rock Removal Projects, Boston, MA
New York Harbor, NY
Shrewsbury River, NJ
Bass Harbor, Tremont, ME
Pawtuxet Cove, Warwick, RI
Bucks Harbor, Machiasport, ME
Eastchester Creek, Bronx, NY
Duxbury Harbor, MA
Albany Turning Basin, Staats Island, NY
York Harbor, York, ME
Buttermilk Bay, Buzzards Bay, MA
Bullock's Cove, Barrington, RI
North Cove, Old Saybrook, CT
Green Harbor, Marshfield, MA
Rock Removal Providence, RI and Boston, MA
Point Judith Harbor of Refuge, RI
Mannelle Harbor, Lanai, HI
Cocheco River, Dover, NH
Portland Harbor, Portland, ME
New Haven Harbor, New Haven, CT
Menemsha Harbor, Menemsha, MA
Sagamore Creek, Rye, NH
Housatonic River Dredging and Hammonasset Beach Nourishment, CT
New Bedford Lower Harbor Superfund Dredging, MA
Boston Harbor, MA
Saco River, Biddeford and Saco, ME
Plymouth Harbor, MA
Hampton Harbor, Hampton and Seabrook, NH
Cheesequake Creek Dredging, NJ
Block Island Harbor of Refuge, RI
Rye Harbor, Rye, ME
Kennebunk River Breakwater Repairs, ME
Winnapaug Pond Beach Placement, RI
Great Chebeague Island, ME
---
U.S. Navy Projects:
Bath Iron Works
Portsmouth Naval Shipyard
Newport Naval Station
Electric Boat Groton
---
U.S. Coast Guard Projects:
Station Brant Point, Nantucket, MA
Station Jonesport, ME
Station Point Allerton, Hull, MA
Station Eaton's Neck, NY
Station South Portland, ME
Station Burlington, VT
USCG Training Center Cape May, NJ
USCG Academy, New London, CT
Aid to Navigation (ATON) Surveys
---
Representative Clients:

41° North Offshore
ACK Marine Construction
AECOM
AGM Marine Contractors
Albert Marine Construction
Alteris Renewables
AMEC / Foster Wheeler
Anchor QEA
A-Plus Construction Services
Appledore Marine Engineering 
Applied Coastal
Applied Marine Ecology Lab
Apponoag Harbor Marina
ARCADIS
ASEC Corporation
Atlantic Mechanical
Barletta Engineering
Blakeslee Arpaia Chapman
Boston Autoport / Diversified Automotive
Bourne Consulting Engineering
Breakwater Marine
Brewer Yacht Yards
Bridgeport Port Jefferson Steamboat Terminal
Bristol Marine
British Virgin Islands Port Authority
Brown & Howard Wharf
Bryant Associates
BTT Marine Construction
Buckeye Terminal
Burnham Associates, Inc.
Caldwell Marine International
California Dredging Company
Cape & Islands Engineering
Cashman Dredging and Marine Contracting
Castaways Yacht Club
Cedar Marina Dredging
CH2M
Charter Contracting
Childs Engineering
Cianbro
Citgo Terminal
City of San Diego
Coastline Consulting
Cold Spring Harbor Beach Club
Conway Marine Construction
CPM Constructors
D.W. White
Eastern Fisheries
Eastern Minerals
EEA, Inc.
Feldman Surveyors
Flushing Asphalt
Fore River Dock and Dredge
Fore River Shipyard
Friends of Sengekontacket Pond
Fuss & O'Neill
GEI Consultants
General Dynamics' Facilities
Geological Field Services
Global Oil Companies Terminals
Granite State Minerals
Great Lakes Dredge & Dock
Green Harbor Marina
Green Harbor Yacht Club
Gulf Oil LP
H&L Contracting
Hansen Marine Construction
Harbor Engineering
Harborlights Marina
Haughland Group
Interstate Navigation Co.
Irving Oil
J.F. White Contracting Company
Jacobs
J-Way Southern
Kiewit Construction Corporation
Land Remediation
LKE Environmental
Lucas Marine
Marine Safety Consultants
MarineMax
Marshfield Yacht Club
Massachusetts Port Authority Terminals
Matrix Design Group
Michael Baker International
Mill Wharf Marina
Moffatt & Nichol
Mohawk Northeast
Moores Marine
Moran Towing
Nantucket Engineering & Survey
Newborn Construction
North River Marine
Norton's Shipyard Marina
NYS Marine Highway
OSM Marine
Pacific Choice Seafoods
Palmer Federal Constructors
Patriot Marine
Paul Howard Construction
Pawtuxet Cove Marina
Ponoag Marina
Port Norfolk Yacht Club
Port Sonoma Marina
Posillico, Inc
Prock Marine Company
Quonset Port of Davisville
R.B. Conway and Sons
RDA Construction
Reagan Construction
Reed & Reed
Rhode Island Yacht Club
Riverscape Marina
Riverside & Pickering
Robert B. Our Company
Roux Associates
Royal River Boatyard
Safe Harbor Marinas
Seawanhaka Corinthian Yacht Club
Semper Diving & Marine – Semper Offshore
Sevenson Environmental
Skanska
South River Yacht Yard
Southwind Construction Corp.
Sprague Energy Terminals
SPS New England
St. George's Boatyard
St. Jean Engineering
Stantec
Sterling Equipment
TDI Brooks International
Taylor Marine
TetraTech
The Nature Conservancy
The Steamship Authority Terminals
Tighe & Bond
Tilcon New York Terminals
Tioga Construction
Town of Mashpee
Tripp Marine Construction
United States Coast Guard
Village Dock
Vineyard Fast Ferry
Walsh Construction / PCL
Waterfront Structural Consulting
Welch Associates
Weston & Sampson
Wickberg Marine Contracting
Wickford Yacht Club
Willet's Point Asphalt Plant
Winslow Marine
Wood
Woodard & Curran
Wright Island Marina
WSP